Howie Mandel
Email

Article from the Oral Health Center

Check out this article from the Oral Health Center: %0D%0A
The comedian and TV host talks about life, his 40-year career, and why he loves going to the dentist
It's an understatement to say that Howie Mandel has a lot going on. He's the longest-running judge on NBC's America's Got Talent, and he judges the newly launched AGT: The Champions as well as hosting the adorably funny Animals Doing Things on Nat Geo WILD. His Deal or No Deal game show has been relaunched on CNBC, bigger and better than ever with new high stakes rules and the chance for viewers to win $100,000. Besides all that, he has a comedy special available on demand, Howie Mandel Presents Howie Mandel at the Howie Mandel Comedy Club, the first standup show he's taped in 20 years.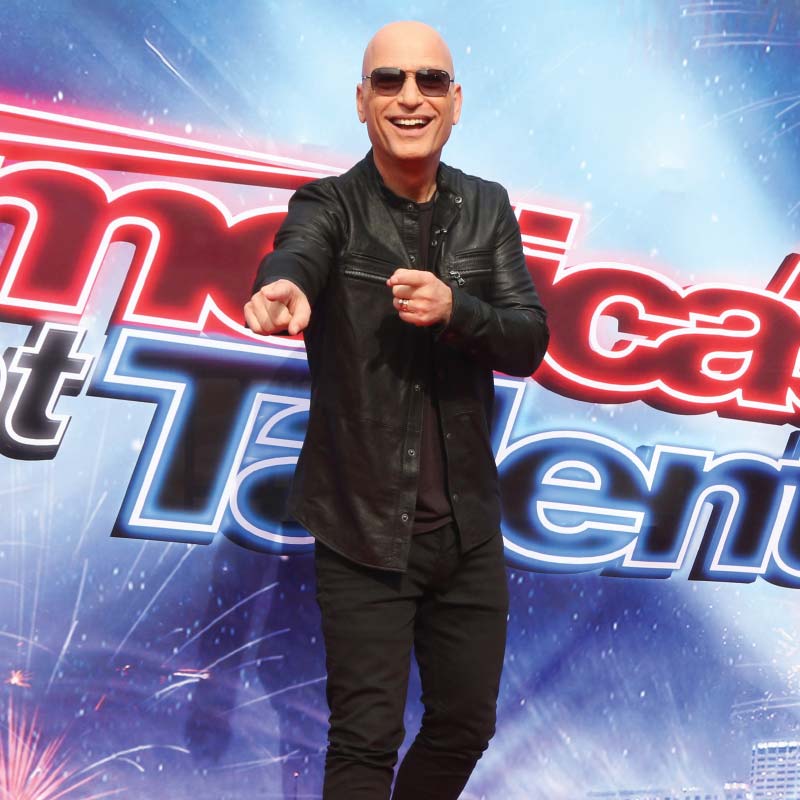 "And I'm taking care of my dental health. Fifteen minutes before this interview, I flossed," he told Dear Doctor. "I love going the dentist. It's like a party and I get a little gift bag afterwards. I've had implants, I have veneers. I've had root canals. I've had everything that you could possibly have done."
In between dental visits, Howie has done it all over the past four decades: standup comedy, film, television hosting, television acting and producing. Yet when this prolific entertainer was first approached about hosting Deal or No Deal, he was ready to quit show business altogether.
"In 2005, I was done. Then right on the cusp of deciding to leave, I got a call asking, 'Do you want to host a new game show?' I went 'No! No!' There was no way I was going to host a game show… And my wife, who is a lovely lady I've been married to for 40 years, said, 'If you want this [marriage] to last, you'll get out of the house and take this job.' So I did take the job and probably my biggest success to date is Deal or No Deal." He added, "My wife is smarter than I am, and I've learned to listen to her."
His hard work has paid off. Howie earned a star on the Hollywood Walk of Fame and on Canada's Walk of Fame, he was named to Comedy Central's list of 100 all-time greatest standup comedians, and he has his own successful production company. So what is he most proud of?
"I've done a lot of productions, but I'm most proud my reproduction," he said. His children and his grandchildren, along with his wife, Terry, give Howie's life the greatest meaning.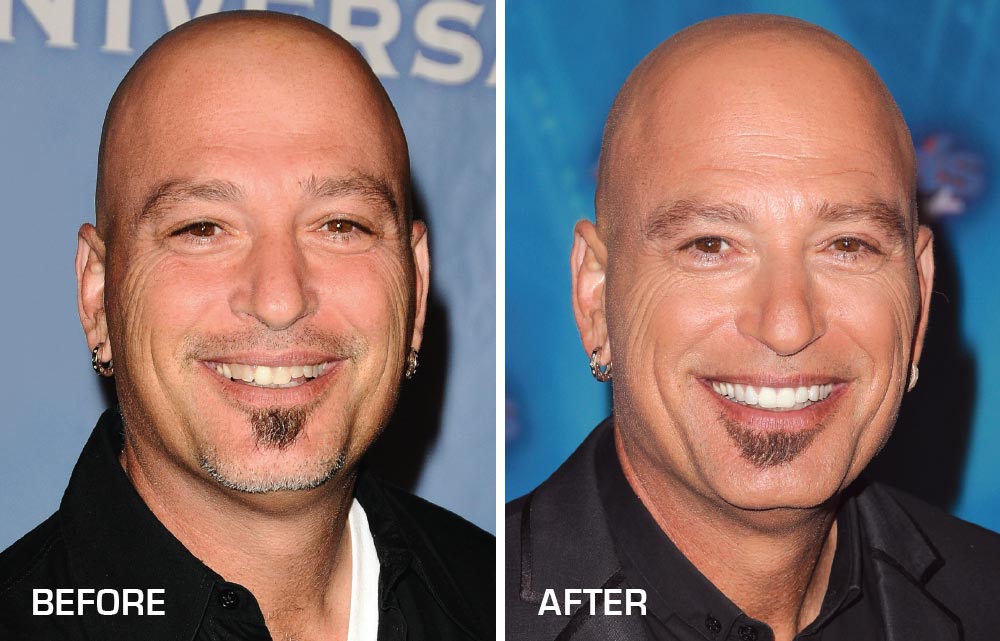 He's also very proud of his smile—the product of a joint effort between Howie and his dentist. Howie's teeth needed help after a mishap on the set of the 1987 movie Walk Like a Man, in which Howie starred as a young man who had been raised by wolves. In one scene, his co-star was supposed to yank a bone out of Howie's mouth on the count of three. "I said the count of three, but he did it on the count of two. He ripped out the bone—and my tooth. In the movie, you can still see the tooth flying."
Two teeth were damaged in the scene, so Howie quickly got two new crowns in the front and resumed filming. "The front ones are fake, so these are not mine. Well, they are mine. Once you buy them, they're yours," he said.
But as Howie got older, he became dissatisfied with his smile. "I love my coffee, and my real teeth would discolor. I looked kind of like Bugs Bunny with two big white teeth in front that didn't match the others... so I asked my dentist what to do, and he recommended veneers."
Posing with his fingers cradled under his chin, he grinned. "It makes you do this when you have a gorgeous smile like me. I think the Howie smile is going to be the new trend in dental cosmetics. Just ask for 'the Howie smile.'"
He has also had several root canals, and shares an experience that is common to people who undergo root canal treatment: "The reason I went to the dentist was that it hurt, and he told me I needed a root canal. After I got the root canal? No pain! So it alleviates pain. Root canals are not bad. The reason you need it is bad, and you can't let it sit. You need to take care of it and you'll have a happier, pain-free day. Root canal is good! I should make t-shirts that say that."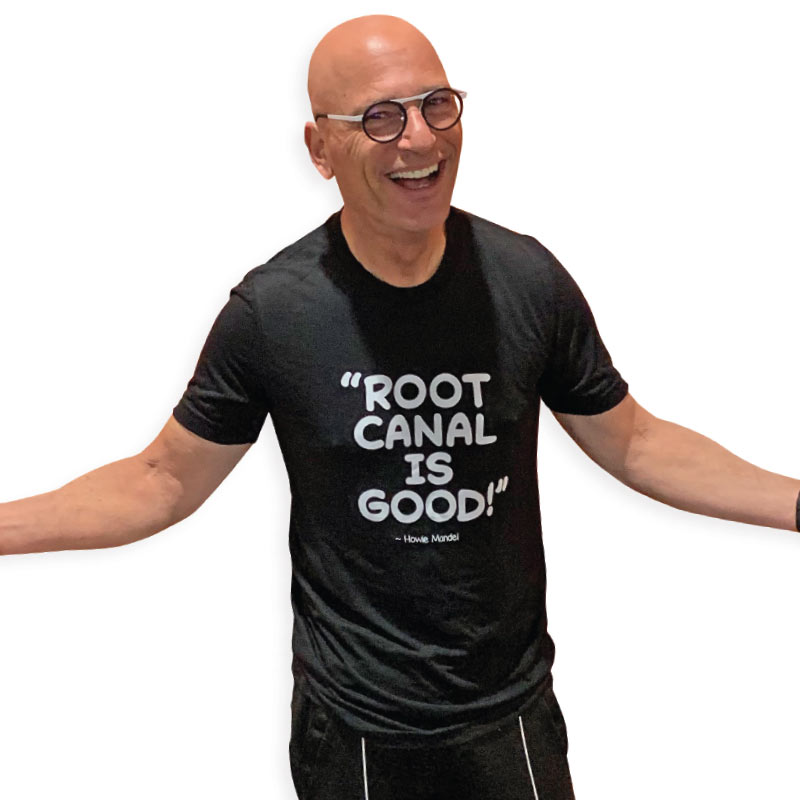 In addition, Howie has two dental implants. "They are amazing!" He said he honestly can't tell his implant-supported replacement teeth from his natural teeth. "It's like I was born with them. For the life of me, I don't know which are teeth and which are implants. I can chew just like normal. Nothing is any different from natural teeth, except they are better than my natural teeth were. I don't think of them as new teeth. I think of them as my teeth. I find implants are like adoption. You love them like they're your own."
Howie has been very open about his lifelong struggles with attention-deficit/hyperactivity disorder (ADHD) and anxiety, which manifests itself in his life as germaphobia and other forms of obsessive-compulsive disorder. He is famous for fist-bumping instead of shaking hands, and he has worked his OCD into his comedy routines. He has done a lot to raise awareness of mental health issues and believes that talking about them removes the stigma.
"If anybody is perfect, they're probably not human and they probably don't live on this planet. We all have our issues and we all have our cross to bear. And we all have teeth that need to be taken care of!" he proclaimed, before adding more seriously, "I just wish that people would take care of their mental health the way they take care of their dental health. No one sees a problem with going to a dentist even when something isn't bothering you. The dentist will see if there's something at the beginning stages that you're not even aware of. That's just to maintain your dental health, and that's something we don't do for mental health or even as much for physical health. I think the whole way we approach dental health is a great template for how everything should be approached in life: maintain, take care, and upkeep. That's what life is."
When asked how ADHD may have affected his career, he said, "Maybe it's part of ADHD, but I don't think of ramifications. I live like Nike® and I just do it. That's how I fell into standup comedy and then show business. I think we as human beings have great instinct, and we've got to act on our instinct. If you act on your instinct, 99% of the time you're probably right. And if you're wrong, that's positive too because you'll learn not to go down that path...I think that we don't achieve as much as we could achieve in life. We don't do things because we're overthinking."
Howie loves getting a reaction from people, including the feeling he gets from making live audiences laugh and smile. "My analogy for standup comedy is thrill rides. I go on any roller coaster, and the higher you can toss me and the more you can flip me around and the more dangerous it seems, the more exciting it is and the more my adrenaline flows. That's the same feeling I get on stage once somebody says, 'Ladies and gentlemen, Howie Mandel.'"
He enjoys practical jokes and likes to have fun at the dental office, like the time he showed up for his cleaning appointment with smashed OREO® cookies covering his front teeth. "They are trying to be polite and pretend not to notice when I say, 'I'm here for a cleaning.' It's fun to see the hygienist's face when you open your mouth and it's all over your teeth."
What's next for Howie Mandel?
"Spreading this: the Howie smile," he said, pointing to his pearly whites. "I want the world to share my smile—not just to smile but to have my smile. In fact, if they could name these veneers, you could just say, 'Give me the Howie.'"
Credits: Kathy Hutchins / Shutterstock.com
Email

Article from the Oral Health Center

Check out this article from the Oral Health Center: %0D%0A